Computers & Gadgets
Activities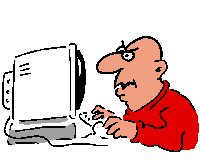 Prior to the Covid pandemic,the Computer and Gadget Interest Group conducted workshops upstairs at the Belmont 16 Footer Sailing Club from 2 p.m. till 3 p.m., the day after each of the Probus Club monthly general meetings. Currently because we don't have a venue while the renovations are being undertaken at the Belmont 16 Footers Club,
home visits are arranged when members require technical assistance
. O
n all of the other Tuesdays of the month w
e also meet informally for discussion during fellowship and refreshment in the club's downstairs areas. The atmosphere is very casual and relaxed. The 16 Footer Sailing Club very generously covered our costs, so there was no fee. People were invited to come early for lunch before the meeting or to linger a little longer afterwards for drinks either around the bar or in the coffee lounge.
Click
here
for a short glimpse of the "Guys, Gals and Gadgets" in action.
This was a mutual helping group, where incidental problems were solved and new ideas explored. It required nothing more than a desire to learn about, improve and better enjoy our computers, tablets, smartphones, ipods, phones, printers and other new technology. Demonstrations were made for all to see on a large screen. Members were encouraged to bring their laptops, tablets, smartphones, ipods etc for trouble shooting. The group did not intend to replicate TAFE courses nor other courses such as Computer Pals.
2023
Meetings abandoned until further notice

January
February
March
April
May
June
July
December